The 2022 Subaru Love Promise Community Commitment Award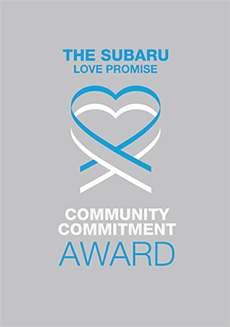 We've been nationally recognized for our dedication to our community and the Subaru Love Promise.
We're honored to receive the 2022 Subaru Love Promise Community Commitment Award. This award nationally recognizes Subaru retailers who are making the world a better place while demonstrating an outstanding commitment to supporting passions and causes in local communities. These efforts are focused in important areas such as the environment, community, health, education, and pets.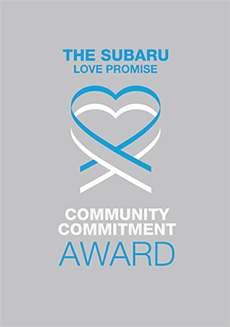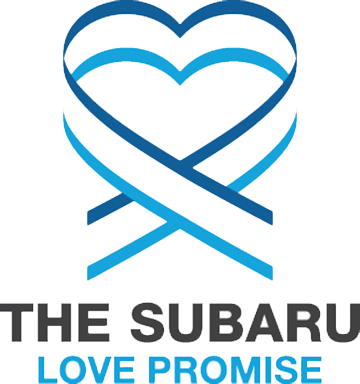 What is the Subaru Love Promise?
Subaru and our retailers believe in making the world a better place and the Subaru Love Promise is our vision of respecting all people. This is our commitment to show love and respect to our customers and to work to make a positive impact in the world.
How is Wallace Subaru of Johnson City dedicated locally to the Love Promise?
Our Love Promise can be seen in our partnership with the United way of Washington county TN. which helps to fund many local organizations including but not limited to Frontier Health, Girls Inc., Johnson City Schools, Keystone Dental Care, The ARC of Washington County, Fit for success and the Local Girl Scouts. We're grateful for the opportunity, not only to be a part of our community for 50 years, but to serve it as well.
boone lake clean up project
United Way of Washington County TN.
Love Promise Stories from Wallace Subaru of Johnson City
Subaru and Wallace Subaru of Johnson City believe in making a positive impact on the communities in which we live and work. We uphold that belief through our Love Promise Community Commitment. Every month, we select inspiring stories from customers and partners from around our area who strive to support our collective commitment and feature them here
Giving Back - Game Ball Sponsorship - Tom C
The Union High School Basketball Boosters and Bear fans in Big Stone Gap, Virginia would love to give a HUGE shoutout to Mr. TC Baker and his winning team at Wallace Subaru of Johnson City, Tennessee. Mr. Baker of Wallace Subaru has gone above and beyond for the 2021 Union High School Basketball Program as one of our official game ball sponsors. When we approached Mr. Baker about the sponsorship, he was eager to give back to the Bear program and didn't hesitate to get on board with this "winning basket". We were happy to present Mr. Baker and staff with the official game ball to proudly display at the dealership. Thank you Mr. Baker at Wallace Subaru in Johnson City, Tennessee for your outstanding community support! Go Bears!
---
Erwin Kiwanias Shopping Tour 2019 - Jim B
We get our children between ages 7 and 12 from Unicoi County Elementary School and the kids are bused into Wal-mart by the county school buses. We had 250 kids with $100.00 each to spend plus extra for those needing coats or shoes or even warm clothes. I was at the door as we were winding down and the store was packed with kids and people pushing baskets helping their assigned child buy from his list. Most would buy for everyone in the house and buy for themselves last. So was the case as a fellow Kiwanian came up to me with a young boy that appeared to be about 8 or 9. He was wanting a bike and only had $20 left. As they were trying to figure something out some man that had been passing by on interstate 26 and stopped into Wal-Mart for something walked up to me and asked what was going on with all these kids. I told him about our shopping tour that dated back over 60 years. He looked around and was visibly taken in by what was going on. He said, "THIS IS AMAZING!" The young man was still crying while the Kiwanian he was with was trying to find out if we had enough money left to get him a bike. The stranger asked me what was wrong with the boy and I explained that he only had $20 left and was wanting a $100 bike and we were trying to put some money together. He looked at the boy, whom he had never seen, and in a community he had never visited and said, "Come on son lets go get you a bike!" I don't think the boy got more thrill from the bike than the stranger did just 5 days before Christmas.
---
Erwin Kiwanias Shopping Tour - Jim B
We were all gathered at Wal-Mart waiting for the school buses to bring in the kids, all between 7 and 12 from area schools in Unicoi County for the annual Kiwanias Christmas Shopping Tour sponsored by Wallace Subaru of Johnson City. We had $26,000 to spend and every dime would be gone by 1PM. Afterward, 275 of the kids would go to Erwin Town Hall for free pizza from Little Caesars and Rocky's pizza. A lady in her mid 50s walked up to me and asked if she could help some kids shop. We are very selective who we let help. Several churches along with the Unicoi County Sheriff's Department, the Erwin Police Department, the Unicoi County High School ROTC Cadets, and members of the local Army Reserve along with fellow Kiwanians are the ones we trust with someone else's kids to help them shop. I explained all this to the lady and she said you don't remember me, but you came to my house about 25 years ago to take 3 of my kids on a Christmas Shopping Tour. My husband had left me and I had no means of support just good will from family and friends till I could get on my own. We were not going to have any Christmas. I can never explain to you what that meant and I will never forget it. I would like to pay back a little by helping some of these kids shop like you did for my children. She got in line and I watched her when she was assigned to two little girls who appeared to be first graders. I would check in to see how she was doing with them. Just as she was going up to the register I started over to ask how it was going and asked one of the little girls why she was crying. She said, "This is my best Christmas ever". She stayed and helped other kids until we were through and went down to City Hall to help feed and clean up. It's more than helping kids it is also helping people have a Merry Christmas.
---
Subaru Loves Pets – WCJC Animal Shelter - Tammy D
We were so excited when Penny, one of our underdogs here at the WCJC Animal Shelter was finally adopted. Penny was the longest resident here at the WCJC Animal Shelter, she had been here a total of 1090 days. Penny was overlooked by most people because she was very high strung in her kennel but on October 28th, a family came in and knew immediately that Penny was the dog for them. Penny now gets to wear pajamas and sleep with her human brother. Penny is living her best life ever.
---
We Are All in this Together - Steve M
Many days we come in contact with people in our business that obviously are struggling to make ends meet. When they have transportation needs, their financial challenges become very obvious. One such customer of ours is Louis and Patty Somers. One day I got a call from Louis and he needed a car bad. His vehicle was impossible to repair anymore and he had to have a vehicle to get to work. He explained he had 1000 dollars and couldn't afford any kind of a payment. I knew him and his family through a friend and he knew I was in the car business. We had recently traded for a fairly low mileage pretty nice chevy HHR, but we had about 2500 dollars in this vehicle. So I sold it to louis for his 200 dollar car and 1000 dollars. To make the company whole I paid for balance of the vehicle myself to assist this needy family. Looking back on it I am glad I did this because, about two months ago Louis died of a heart attack while grocery shopping. The first thing I did upon hearing about it was drive to their house with a condolences card and 1000 dollars to assist his wife while she waiting for the small insurance check she would eventually receive. Since then, I have paid for service and repairs for her car when my assistance was needed. Sharing the love takes many shapes and forms but usually it is about situations just like this. A need for assistance comes to our attention and we reach out and touch someone with love.
---
We are all one family - Steve M
It was a Saturday in October when Mr. and Mrs. Knight were traveling from West Virginia to Knoxville Tennessee to meet her brother. This trip was planned in advance around their busy schedules to deliver possessions that their parents had left after passing away within 2 months of each other. While traveling to Knoxville their 2020 outback developed and electrical issue that placed the vehicle in limp mode and lit up the dash with all the warning lights. They called roadside assistance and had the vehicle towed to our shop a little after our service dept had closed for the day. Our new car manager Travis Manuel took charge of the situation and got a them into one of our service loaners and told them to drive it back home and we would take care of the situation. We then diagnosed the vehicle and with the help of our D.S.P.M. got the parts expedited and the pairs were made. We then made arrangements to have their vehicle delivered to them in West Virginia and had the drivers stop and fill it with fuel before we handed it back over to them. The Knight family was very grateful for the genuine concern and empathy we displayed for them, especially for a vehicle that was not even purchased here. It is easy to feel sorry for a Subaru owner when they are in a tough situation. The real test is, are u going to step up and do the right thing. Travis Manuel really picked up the ball when it was on the ground and showed some Subaru Love to an owner in need.
---
A Long Way from Home - Steve M
One of our multiple purchase Subaru Customers, Vicki Lott, was traveling from her home in the Tri-Cities to Charleston, South Carolina to visit her daughter. She was in her latest new Subaru, when trouble occurred, she was very distressed. All of the dash lights had come on and she was in need of help. She called roadside assistance and they got the car towed to the local Subaru dealer. They put her in a loaner vehicle and proceeded to start repairs on the car. She called our salesperson back and told him she was uncomfortable driving the other dealer's loaner and wanted her trusted dealer in Johnson City to help her. We dispatched drivers the next morning with one of our service loaners, and brought it to her in Charleston. Upon receiving the car she called and said she was relieved. Once her car was repaired we dispatched driver to pick up her repaired car in Charleston and bring it to her in Johnson City. This is Subaru Love in action.
---
Make a Dog's Day - Andy A
Subaru is proud to establish the first-ever National Make A Dog's Day October 22nd. As part of Subaru Loves Pets month, we're inviting all dog lovers to do something extra special for their furry best friends. Plus, Subaru will be focusing our efforts on helping the hardest-to-adopt shelter Dogs –those with special needs-find homes. Get ready to fall in love withThe Underdogs. #MakeADogsDay Meet Gabi! Gabi has been at the Humane Society of NWGA (Northwest Georgia) for seven years. If you asked the volunteers to pick their favorite animal at the shelter, Gabi would win hands down. She does not do well with dogs or cats so must be the only animal in an adult only family. She loves people and will bond very quickly to you. Gabi would make someone a great companion. She is waiting patiently for her forever home. If you have room in your heart and your home for this sweet girl then please fill out an adoption application, highlight and right click this link: https://hsnwga.org/adoption/application-for-adoption/?fbclid=IwAR2Ie18p6U3ryKi-niIuIZFTd-waD98xrySl7IJmiRBXE239WP7dpODubiU #MakeADogsDay #SubaruLovesPets #TheUnderdogs
---
Wallace Subaru of Johnson City pitches in - Stephen M
Wallace Subaru pitches in to protect one of Johnson City's most precious assets. On April 27th 2019 members of the local community pulled together to work the 20th annual Boone Lake Cleanup Day. Our dealership had 2 team members Zac Thomas and Robert Trent go and pick up trash in the water and on the banks of our beautiful Boone Lake, that is a center piece of our local community. Saturday is a big day for automobile dealers, but we had Zac our New Car Manager and Robert one of our veteran Subaru sales reps pitch in and do our part for this important local event. I appreciate their commitment to projecting Subaru Love for this important project. Stephen R. Moore GM
---
Heroes bravely share the love in Johnson City, TN. - Zac T
In the afternoon of September 28th, 2018, after hearing a loud disturbing noise, it was apparent a bad accident had just happened at the intersection near our Subaru showroom. Rather than run up and see how bad the wreck was, as most bystanders do, three members of our team ran to see what they could do to assist. The thing was, one of the vehicles was on its roof and on fire! Jeff Alpern (sales) and Robert Curtis (service) grabbed fire extinguishers and took off. Zac Thomas (New Car Manager) ran to the scene to find one of the passengers had exited the vehicle, but the other passenger was unconscious in the burning car. As Jeff Alpern and Robert Curtis worked the fire extinguishers, Zac Thomas went in the burning vehicle and dragged the adult male passenger to safety. Once he was secured, Jeff and Zac, both ex-law enforcement officers, did what they could to handle traffic and keep lanes open for ambulance and fire and safety officers. As General Manager of our company, I was so proud of the bravery and unselfish actions these men took to help others in distress. I realize it is a little late and not a traditional "Share the Love" community story, but the Subaru Team came through that day and made a difference in our community here in Northeast Tennessee.
---